Stay at Sarny Estate!
Sarny Castle and Estate is an aristocratic residence and farm in the Sudetes, a mountain range in southwestern Poland. We offer a total of 16 timelessly designed luxury rooms refurbished using the highest-quality materials, fixtures and furniture.
The first outbuilding to have been meticulously renovated is our Composers House from 1870. Our second refurbished outbuilding is the 18th-century Swiss House, with fantastic mountain views and unrivaled comfort.
Breakfast, lunch and dinner is served at our brand-new restaurant in the Columned Hall of the Composers House. The cosy 1590 Gatehouse Cafe cafe also serves desserts as well as a great selection of wine and Czech, German and Polish beer.
All our rooms are booked individually.
The Estate has been under renovation since 2013. We make every effort to make sure your stay is comfortable and quiet. Every stay at Sarny supports the ongoing renovation effort expected to take a total of 20 years.
Sarny Castle is renowned for the luxury interiors of the buildings renovated in recent years, as well as for the best available cakes, food and drink.
Sarny Castle and Estate is the best location for day trips in the northeast of Czechia as well as the south of Lower Silesia. It's within a short drive to Table and Own Mountains, only 10 minutes away from the opulent Baroque monastery in Broumov, and less than an hour away from Ksiaz Castle, the spa towns of Polanica and Kudowa, and the skiing resort of Zieleniec. The area offers an abundance of other castles and palaces, as well prominent historic churches.
Check-In / Check-Out Policies
Check-In: 14:00
Check-Out: 11:00
Property and Cancellation Policies:

Unless otherwise indicated, you will be charged the cost of the first night should you cancel your booking less than 48 hours before your planned arrival or in case of a no-show.
Front Desk

The Columned Hall at the Composers House serves as the hotel's front desk for check-ins and check-outs. Check-in is possible between 2pm and 8pm. Please contact us if you require late check-in.

No Smoking

Smoking inside Sarny Estate buildings is strictly prohibited.

Breakfast

Breakfast is served from 8 am to 11 am in the Columned Hall. Unless otherwise indicated, breakfast is included in the room rate.

Prices and Taxes

Our prices are inclusive of 8% VAT

Payment and Terms at Check-in, Check-out

We accept major credit cards as well as cash in Polish zlotys

Accessibility or Special Needs

We ask for your understanding that Sarny Castle and Estate is a heritage site where accessibility of some sections is limited. The Gatehouse, the Composers House and the Swiss House are not wheelchair-accessible. Except for Rooms 11 and 12, located on the ground floor at the Swiss House, all other rooms are located on the 1st floor and in the attic, reachable by stairs only.

Parking

Free-of-charge parking is available on site, no reservation needed.

Events

Our guest room interiors is private and accessible to hotel residents only. The Gatehouse and the rest of the property is publicly accessible. Concerts and events may be taking place at the property, available to hotel guests at no additional cost.

Ongoing Renovation

We ask for your understanding that work may be done on other buildings during your stay. We make every effort to minimize any inconvenience.

Chargins Electric Vehicles

We offer EV charging at 3 zł per kWh.

Sarny Castle Owner

Sarny Castle and guesthouses are owned and operated by Masena Sp. z o.o., Narbutta 83/i9, 02-524 Warsaw, Poland. VAT ID PL525270544
The Grounds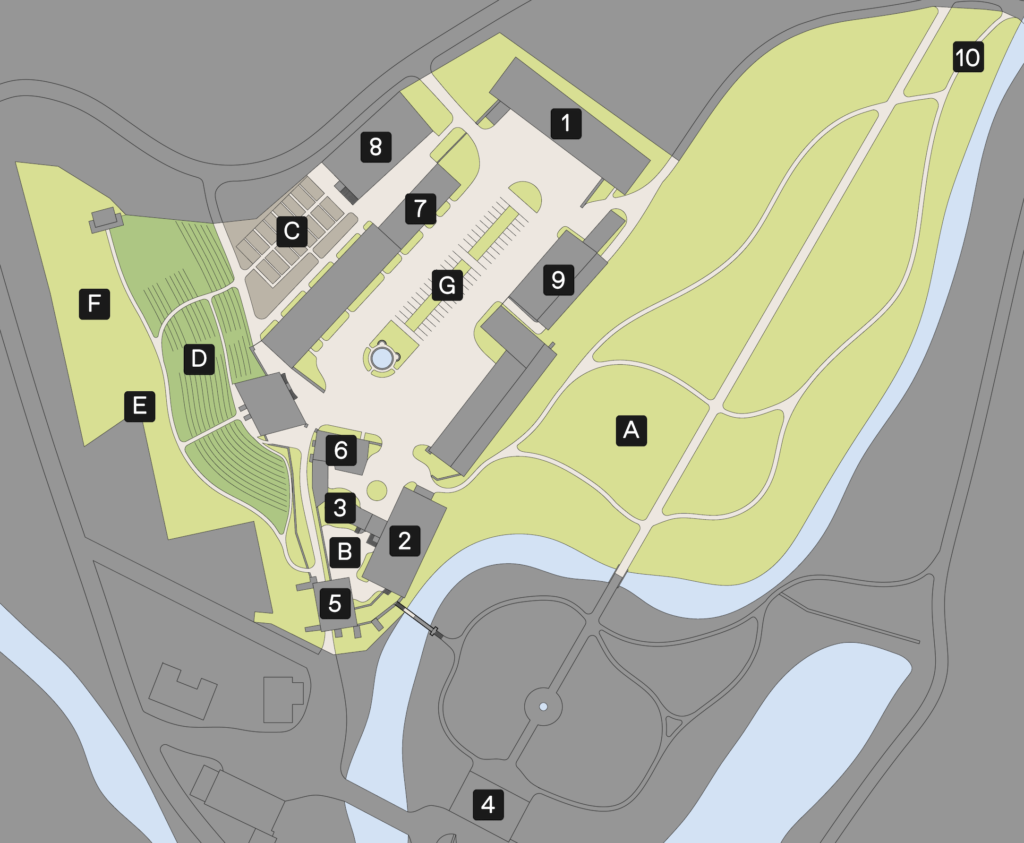 7 – Composers House – Hotel and Columned Hall Restaurant
8 – The Swiss House – farm stay
9 – The Coachhouse (a preserved ruin with seating)
5 – The Gatehouse – Cafe
6 – The Agent's House (under renovation)
2 – The Residence of The Counts Götzen (under renovation)
3 – St. John of Nepomuk Chapel
1 – The European Center for Garden Art (under renovation)
4 – The Summer Palace (owned separately)
10 – A stone wicket (17th-18th c.)
A – Landscape park
B – The Southern Patio
C – Proposed garden
D – Proposed vineyard
E – Orchard
F – Proposed camp site
G – Parking