Stay at Sarny Estate! Book directly here: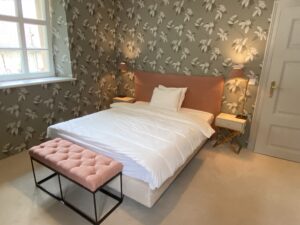 Sarny Castle and Estate is a former aristocratic residence and farm. The first outbuilding to have been meticulously renovated, the Estate's Composers House offers timelessly designed luxury rooms refurbished in 2020 using the highest-quality materials, fixtures and furniture, set in the Sudetes, a mountain range in southwestern Poland.
Breakfast and lunch is served in the cosy interior of the 1590 Gatehouse Cafe. The cafe also serves desserts as well as a great selection of wine and Czech, German and Polish beer.
The Estate has been under renovation since 2013. The Composers House is the first building to have been refurbished and more refurbishment work is underway. We make every effort to make sure your stay is comfortable and quiet. Every stay at Sarny supports the ongoing renovation effort.
Sarny Castle is renowned for the luxury interiors of the buildings renovated in recent years, as well as for the best available cakes, food and drink.
Sarny Castle and Estate is the best location for day trips in the northeast of Czechia as well as the south of Lower Silesia. It's within a short drive to Table and Own Mountains, only 10 minutes away from the opulent Baroque monastery in Broumov, and less than an hour away from Ksiaz Castle, the spa towns of Polanica and Kudowa, and the skiing resort of Zieleniec. The area offers an abundance of other castles and palaces, as well prominent historic churches.
Sarny Castle and the guesthouse is owned and operated by Masena Sp. z o.o., Narbutta 83/i9, 02-524 Warsaw, Poland. VAT ID PL525270544