New ECSO Paper – A Europe of United Gardens
A Europe of united gardens. The role of the European Route of Historic Gardens in the implementation of the cultural policy of the European Union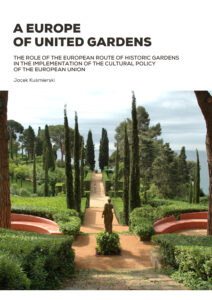 In October 2020, the European Route of Historic Gardens was certified by the Council of Europe. This was not only a great honour, but also an important step in recognising the historic, artistic, social and natural values of historic green spaces. Admission to the Cultural Route of the Council of Europe has also opened up opportunities to participate in various projects promoting culture and tourism at the international level. What could be the role of the European Route of Historic Gardens in this regard? How can it be involved in the implementation of the European Union's cultural policy? This paper seeks to find answers to these questions.
The book presents a results of the thesis written by Jacek Kuśmierski, conservator of historic gardens and the ERHG independent collaborator, at the Postgraduate Studies "Cultural Diplomacy" at the Jagiellonian University, under the supervision of Prof. Bożena Gierat-Bieroń.
5 things you will find inside:
A lot of interesting information about the role of gardens in the implementation of the cultural policy of the European Union.
The most important garden promotion programmes.
Examples of good practice of including historic gardens in cultural projects.
A map of sites whose pilot projects were supported by the European Year of Historic Gardens 1993.
A map of Garden Members of the European Route of Historic Gardens.
The book published by the Sarny Castle Trust and the Eduard Petzold European Centre for Garden Art, under the patronage of the European Route of Historic Gardens. Publication available in English and Polish.